Top 10 Things to do in Goa
Planning a trip to Goa? The 10 most fun things to experience in our very own land of sin
You've read about all the crazy sights, sounds, places and foods of Goa, but before you embark on your visit, you might want to go through our quick overview of the 10 most fun things to experience in our very own land of sin! Feel free to add your own in the comments box below.
#10. Indulge in Watersports
Photograph by www.flickr.com user Charles Sipe
Goa has endless beaches and many opportunities for water sports for people with a sense of adventure. From surfing to jet skiing to parasailing, there's something for everyone, no matter what your threshold for risk! All water sports are supervised by well trained staff so it's quite safe as well.
#9. Celebrate Christmas in Goa
Photograph by www.flickr.com user Grzegorz tobinski
A pre-dominantly Christian state, Goa has got the prettiest Christmas culture in all of India! Goa lights up like a bulb during Christmas week. Every lane has dozens of lanterns and carols can be heard in every nook and cranny of the state. Even the Hindu population living here participates happily in this festival. There is lots of drinking, feasting and merry-making and the whole state has a wonderful charm to it.
#8. Get a Black Henna tattoo
Photograph by www.flickr.com user woodlouse
Get a black henna tattoo painted onto any part of your body by a tribal tattoo artist right on the beach. You can choose from a large variety of designs, ranging from simple to really intricate. The most beautiful part of a henna tattoo is that it fades away after a couple of weeks so there is no way you can be bound for too long by a beer fuelled choice of design!
#7. Breakfast at Infantaria, Lunch at Curly's and Dinner at Britto's
Photograph by www.flickr.com user Jason Varghese
Aside from the stellar menus and great cooks, the ambience at each of these places is truly memorable. Infantaria at Calangute has a large collection of superbly prepared snacks and bakes. Their breakfast options are superlative. Curly's on Anjuna is a shack that serves some seriously good food. You'll always find a group of hippies sitting around here and young people playing ball on the beach in front. Britto's at Baga is an extremely popular beachside multi cuisine restaurant with tables leading onto the beach where you can dig your toes in the sand while digging into a grilled lobster. At night, all their tables are candle lit and the sea breeze is just perfect.
#6. Visit Old Goa
Photograph by www.flickr.com user benuski
The Basilica of Bom Jesus located in Old Goa is a UNESCO World Heritage site. It contains the tomb and mortal remains of St Francis Xavier. A must visit for first-timers! Visiting Old Goa is quite the experience and one feels totally transported back in time wandering around its corridors and by-lanes.
#5. Go on a Cruise
Photograph by www.flickr.com user shreyank gupta
Get on board one of the Sunset/Moonlight/Casino cruises on the Mandovi River. They're great fun! The yachts are totally lit up at night and look like glittering jewels floating down the Mandovi. Make sure to carry your lucky charm if you're in the mood to wager!
#4. Spend a Night on the Beach
Photograph by www.flickr.com user shahnawaz sid
Though we recommend this only for the guys and for larger groups for reasons of safety, this has to be one of the coolest things to do while in Goa. And generations of inland Indians shall vouch for their very first, grand Goa vacation where they got drunk and spent the night by the sea!!
#3. Ingo's Saturday Night Market (Arpora)
Photograph by www.flickr.com user ipshita bhattacharya
Started by a German hippie who made Goa his home, Ingo's Night Market is now an extravagant affair with hundreds of illuminated stalls selling everything from bone necklaces to glittering bags to world food. It's a lot of fun whether you want to shop, eat, take pictures or simply browse through the stalls put up by people from all over the world.
#2. Rent a Bike and Ride Around
Photograph by www.flickr.com user vir nakai
Contrary to popular belief, there's a lot more to Goa than beaches. All beach places in Goa are full of cute, intricate little roads and pathways. These are often surrounded by paddy fields, or rows of quaint village cottages. A lot of the roads are dotted by stalls selling all sorts of colourful knickknacks and it is great fun to just ride around and explore the ins and outs of these places on a bike. Best time to go? Dusk...when the lights have just come on!
#1. Partayyy!!
Photograph by www.flickr.com user godwin d
Shack-hop the night away and move from one party to the other. There are usually no charges on entering the shacks and it's an experience one should have at least once! Expect ultra-loud electronic dance music, free flowing alcohol, lots of pretty people and er..other things!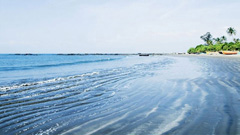 An exclusive collection of articles that will take you through the best that Goa has to offer.
Explore More Destinations